Special Programs at Midland
To learn more about any of our special physical therapy programs in Midland, Michigan, call (989) 832-9300 today.
Dartfish is a state-of-the-art video-based running analysis program currently available at our locations in Midland and Freeland.
Advances in research show that very small changes in running form can lead to increased strain and compression on tendons and joints, and subsequent pain and decreased performance. Research has also shown that certain adaptations to running form can increase performance and reduce the risk for injury.
With the help of Dartfish, the same advanced computer software and video analysis used by professional sports teams and Olympic athletes, we take dozens of measurements throughout the gait cycle to get a full appreciation of your running form. And since not all bodies are built equally, we correlate this with a comprehensive screen of flexibility, strength, balance, and posture.
With all of these measurements, we then devise a specific plan of action to promote proper form, potentially including corrective exercises to target deficient muscle groups; running retraining to promote proper joint alignment; and advice and/or referrals for proper footwear.
It is our experience that athletes, and particularly runners, appreciate receiving treatment from professionals who understand their goals and can relate to their ambitions as athletes. At Active Orthopedics Physical Therapy, our therapists have done it all – from 5Ks to marathons and Ironman distance triathlons.
If you have a prescription for physical therapy, you may participate in the Active Running program at no additional charge. We also offer this service on a private-pay basis.
Back in the Swing is a unique program for golf enthusiasts with the goal of improving your "Body-Swing Connection."
With the assistance of Titleist Performance Institute (TPI) certified professionals, this program will identify and target deficiencies that may be hindering your golf game: flexibility, lower extremity and core weakness, movement disassociation, balance, and mind-body awareness.
Features include:
Video swing-analysis
Functional movement assessment performed by TPI-certified professional
Individualized exercise program targeting movement deficits and weaknesses
Additional swing correction and game play hints in coordination with a PGA professional
Who Can Benefit?
Golfers of any skill level seeking to improve their game on all levels: power, consistency, and accuracy
Players returning to the game after a recent injury or surgery
Program Packages
Birdie
Evaluation performed by TPI-certified professional
Video Swing-Analysis
Individualized Home Exercise Program
Eagle
Birdie package PLUS
3 follow-up sessions with skilled physical therapy targeting deficiencies
Hole-in-One
Eagle package PLUS
Lessons with PGA golf professional
At Active Orthopedics Physical Therapy, we employ the functional movement screen (FMS) as a generalized measure of movement efficiency, flexibility, strength, balance, and coordination. The FMS is utilized throughout the professional and collegiate athletic world where athletes routinely participate in pre- and in-season screenings, which help identify potential deficiencies, compensatory movement patterns, and asymmetries that have been shown to lead to both increased injury rate and reduced performance.
The screen itself involves 7 movement tests that simulate functional sport-related tasks including squatting, lunging, hurdling, and others. Participants will complete the test within 15 minutes, during which time both the observer and participant will readily identify problem areas that can then be targeted and addressed through the development of a comprehensive corrective exercise program. The entire process will last around 45 minutes to an hour and the participant should plan to wear comfortable gym clothing and shoes.
We recommend that parents and coaches observe the screening process, which will help them to identify compensatory movements that are common among athletes.
The cost for participating in the FMS is $75, which includes both the screen and corrective exercise program development and instruction. Participation does not require a physician prescription, however many physicians do provide prescriptions for physical therapy. In such cases, the FMS is implemented into a comprehensive physical therapy management program, which, in most all cases, is fully covered by insurance.
Active Orthopedics Physical Therapy offers the Graston Technique® to treat soft tissue injuries. This advanced rehabilitation method, also known as instrument-assisted soft tissue mobilization, effectively breaks down scar tissue and reduces inflammation that causes pain, loss of motion, and stiffness.
When scar tissue or adhesions form in muscles, tendons, and ligaments, it can limit movement and cause pain. Using specially designed stainless steel instruments, your therapist can iron out the tangled scar tissue that is causing dysfunction and rebuild the soft tissue injury into healthy, functioning tissue again.
Graston Technique has been clinically proven to achieve quicker and better outcomes in treating:
Achilles tendinosis and tendinitis
Carpal tunnel syndrome
Cervical (neck) strains and sprains
Lumbar (back) strains and sprains
Fibromyalgia
Tennis elbow
Golfer's elbow
Patellofemoral disorders (knee pain)
Plantar fasciitis
Rotator cuff tendinosis and tendinitis
Scar tissue
Shin splints
Trigger finger
Post-mastectomy and C-section scarring in women
Utilized in conjunction with warming up, stretching, strengthening, and ice, Graston Technique speeds rehabilitation and recovery, reduces the need for anti-inflammatory medication, and allows the patient to continue everyday activities. Learn more about the Graston Technique®.
The Return to Sport testing and training program used at Active Orthopedics Physical Therapy involves a comprehensive, evidence-based testing program designed to indicate the readiness of an athlete's ability to fully return to sport following injury.
The program is utilized for athletes recovering from upper and lower extremity injuries including rotator cuff repairs, SLAP repairs, ACL reconstruction surgery, ankle injuries, and more.
Participants who enroll in the Return to Sport program will undergo a complete assessment of the following measures:
Strength and power
Speed
Endurance
ROM and flexibility
Jumping and landing
Balance and proprioception
Agility and cutting
Functional and safe movement patterns
Based on the results, a comprehensive, individualized report and training program will be developed to facilitate improvements in these measures. Often the participant will participate in the evaluation and training session and then follow up one time per week (or as needed) to advance and progress movement skills and the training routine. Once the athlete demonstrates confidence, proficiency, and safe performance of these measures, a final testing battery will be performed and report provided.
The cost for participating in the Return to Sport testing and training program is $150 for the initial testing, report, and program design. The initial visit will last approximately 75 to 90 minutes and the participant should plan to wear comfortable gym clothing and shoes. Follow-up sessions cost $75 each and will last 45 minutes.
Participation does not require a physician prescription, however most clients are directed by a physician and are provided a formal prescription to physical therapy. In these cases, the program will automatically be implemented into their physical therapy program, which, in most cases, is fully covered by insurance.
At Active Orthopedics we use therapeutic taping as a supplement to physical therapy care. Taping can be applied to patients following a sports injury, recovering from surgery, or simply needing "cues" from their neuro-motor system to facilitate normalized movement patterns and reduce pain. We use both kinesiology taping and biomechanical taping techniques.
Kinesiology Taping:
Used to give tactile feedback to re-establish normal joint and body awareness when taped to support a particular joint. The tape can also be used to inhibit, or relax, an irritated muscle group following a strain injury or from overuse. After surgery, we often use this tape on the affected joint (e.g., the knee and quadriceps following a knee replacement) to help with lymphatic fluid flow to reduce swelling. The kinesiology tape brand we use is Kinesio-Tex®.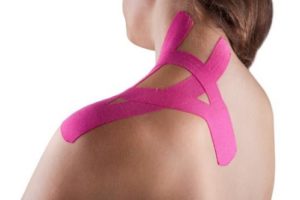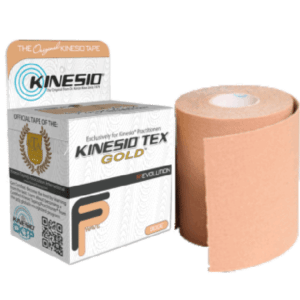 Biomechanical Taping:
This is a different class of taping from the traditional kinesiology tapes. For this technique, the tape is used to assist movement that is normally completed by the injured muscle or joint. The tape can be used as a "second muscle" to facilitate a movement or prevent movements into unwanted painful ranges of motion. The tape can assist an isolated muscle for a specific movement, for example, taping the biceps brachii to assist in elbow flexion. The tape can also assist an entire movement pattern such as the wind-up or follow-through phase of a baseball pitch. The biomechanical tape brand we use is Dynamic Tape™.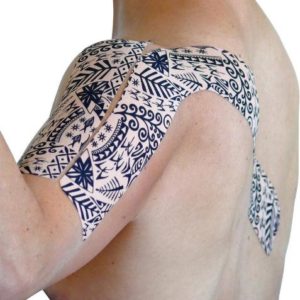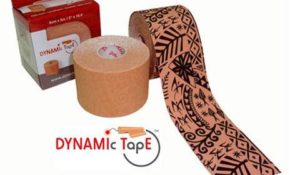 Clinicians with this certification have expertise in orthopedic manual therapy and evaluate patients who are candidates for treatment using high-velocity low amplitude thrust (HVLAT). HVLAT is a safe, specifically directed joint manipulation that is used to relieve back and neck pain, cause immediate relaxation of muscles surrounding a restricted joint, improve range of motion, and increase function. These manipulations are completed using momentum in a comfortable "mid-range" of the affected joint(s) and not "locking" in an uncomfortable "end-range" of a joint, as is often used in chiropractic techniques.
Certified Manual Therapist credentials including OMPT (Orthopedic Manual Physical Therapist) and Cert. SMT (Certification in Spinal Manipulative Therapy) are utilized by clinicians who have successfully completed advanced post-graduate education, training, and specialty work in the area of manual therapy. Manual Therapists, like other therapists, attempt to accurately identify and treat the specific source of pain or dysfunction through hands-on manual testing and treatment which may include joint mobilization, manipulation, massage and other techniques.